CELESTIAL MOVIES: MY INDIAN BOYFRIEND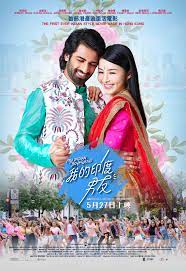 Ketika orang-orang Hong Kong, terutama yang pro-demokrasi, kini mulai membenci Jackie Chan karena pro-partai komunis China, sebuah film baru hadir dari kota berjuluk Pearl of the Orient tersebut.
Seperti yang bisa kamu duga, sudah pasti drama romantis ini bakal sarat dengan air mata, lagu, dan joged khas Bollywood.
Film ini bertutur tentang kisah Krishna (Karan Cholia), putra imigran India di Hong Kong dan seorang wanita muda Tionghoa Hong Kong, Jasmine (Shirley Chan Yan-yin), yang tinggal di kompleks yang sama dan jatuh cinta.
Drama dimulai saat keluarga mengetahui hubungan mereka. Semua kacau dan keduanya menghadapi banyak rintangan. Seperti penampakan drama India umumnya, dua keluarga saling menentang hubungan cinta beda adat tersebut.
Sumber: Now Breedie